HMFIC of this Shit
Staff member
Online Training Access
Apr 12, 2001
30,944
17,159
219
Project Black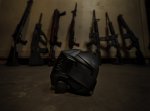 Guys, using a mask or respirator with a rifle has certain limitations. Being able to get the proper cheek weld and eye relief being the top two. Project Black is releasing new masks for the modern shooter.
Project Black TR2 Spec Sheet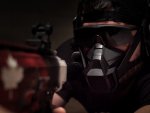 FIRING RANGE: Aerosolized Lead
BREACH TRAINING: Asbestos / Mold / Explosives Dust
PATROL & TRANSPORT: Environmental Pollution / Road Dust / Exhaust Particles
No Training Scars
Low profile minimizes cheek-weld interference
Low-riding seal is eyewear compatible
Superior Field Performance
99% Effective (NIOSH N99 Expected)
Very breathable even during strenuous activity
Simple filter replacement
Designed for Configurability
Multiple strap options for varying kit setups
Compatible with Invisio® headsets
Mic integration for Peltor® headsets
Comfortable for Extended Use
Soft-touch medical-grade silicone
Works well with facial hair
THE TR2 SETS A NEW STANDARD IN TACTICAL RESPIRATORY PROTECTION. Developed in collaboration with Tier 1 operators, it provides a better means of protection while training in compromised environments.
Today's special operations forces understand the importance of protecting their lungs – however, they cannot afford to compromise their ability to execute effectively. This is the foundation upon which the TR2 was designed. By offering a low profile design that's easy to don and integrates seamlessly with varying kit configurations, the TR2 is the most adoptable respirator for tactical units.
Works with Facial Hair
It is proven to be range-ready through hours of active testing with special forces operators. It is more compact, comfortable, and breathable than any other respirator. If you are a special forces operator, SWAT officer, or from another tactical unit, the Tactical Respirator II is the best defense your lungs have.
This will become a new standard for not only the military but law enforcement. The need to protect yourself in a variety of situations means we have to find new solutions.
Project Black TR 1
The original Tactical Respirator.
Compact form factor minimizes training scars
Replaceable electrostatic filter is 98.6% effective
Eyewear compatible
Medical-grade silicone seal
Adjustable earloop straps allow the TR1 to be donned and doffed without helmet removal
Works well with facial hair
Included:
TR1 Mask
3 Electrostatic Filters
Carrying Pouch
Both the TR1 and TR2 are available for pre-order
Available for Pre-order:
Pre-orders begin shipping Summer 2020.
Orders will be fulfilled on a first-come-first-serve basis. Pre-order now to reserve your spot in the queue.
A maximum of 50 units may be pre-ordered at this time (for larger orders, please contact sales@projectblack.com
Pre-orders are non-refundable (Refund Policy)
Link for Sniper's Hide Members to Follow
This will support the site.
About: Project Black
Project Black is a research and design team dedicated to giving military and law enforcement the best respirators. Our core mission is to ensure you can protect yourself without compromising performance. We work day in, day out with Tier 1 elite operators and subject matter experts to execute this mission. We are the tip of the spear when it comes to defusing hazardous airborne particles.