Major Hide Member
Full Member
Minuteman
I was looking for various DIY mirage shield materials for an upcoming FTR match and nearly decided to buy one... However, I found that Vinyl Drywall Bull-nose molding has a great profile for a mirage shield. Can readily be found at Lowes and HomeDepot for $2-$4 per 10' length. I found it on sale for $1.87 so it was an easy decision! Link to material through Lowes is here:
Lowes Vinyl Bullnose Drywall Bead
Pictures below... Hope it helps anyone looking for similar solution.
Fabrication is fairly self explanatory but just in case:
Cut length of Bullnose Bead to match your barrel length; doesn't have run all the way to chamber but should be a few inches behind the objective of your optics.
I purchased pre-cut Velcro squares for $3 at Lowes that fit perfectly in bull-nose channel, but you could use any Velcro with strong adhesive backing.
Wipe barrel free of oil or residue along the areas where Velcro will sit on barrel.
Attach sticky, self-adhesive Velcro squares to underside of bull nose (I used Hook side on Shield and Loop side on Barrel).
press on your new mirage shield to seat the Velcro adhesive...
Done!
I tested on the 1000yd range with 30 consecutive rounds at 82deg F during course of fire for FTR practice and had no visible mirage from barrel and material didn't heat up or get melted as no direct contact with barrel. Velcro added enough height to ensure that no direct contact with barrel and vinyl and, as a bonus, the "vented" portion of the bull nose material seems to allow good airflow under shield without letting heat rise vertically towards the objective of the scope.
I ended up painting mine matte black as I didn't like the look of the original pure white but choice is yours. I haven't tested with black paint to see if any issues with absorbing too much heat, but will repost if I encounter any issues on hot day. Added benefit of painting: allows for camo heat shield if you happen to shoot lots of varmint with your rifle for extended periods.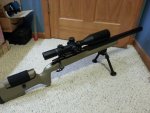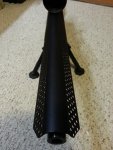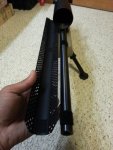 Note: New to posting here but I think I have this in the correct area... If not please let me know for future reference.